Hello everyone! I have a favour to ask of you, my daisy flower pot: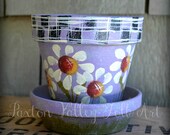 1st place July 15th, 2013
July 15th! Items from $15-$15.99.
Daisy Flower Pot Hand Painted Terracotta Clay Planter Whimsical Summer Garden Decor
by
PaxtonValleyFolkArt
Coupon code: ETSYCONTEST 10% off
is being featured in today's contest over at EtsyContest.com and if you have the time I'd appreciate your vote! What do I get if I win? Absolutely nothing LOL! Except the exposure I suppose, it's really just for fun.
Click here
to cast your vote or go to
www.etsycontest.com/?votefor=PaxtonValleyFolkArt
Thanks in advance and for your troubles, here's a coupon code ETSYCONTEST that you can enter on check out at
my Etsy shop
to receive 10% off anything that you purchase :O)
I know I should have had this up sooner today, but I'm moving a titch slow these days as I have put my back out. We got a lovely new bed but since we live out in the sticks, it was up to us to pick it up, remove our old bed and set up the new one, no delivery service for us! Somewhere in amongst those activities I did something and have been laid up ever since. Fortunately, I have a comfy new bed to relax on since lying down or standing are the most comfortable positions for me right now. Sitting? Not so much! It is slowly improving though so hopefully I will be back to 'normal' soon.
I can do some crafting still if I use my ironing board as my craft table so I can stand and I made these little altered clothes pins yesterday.
You could use them to display your Christmas cards or could even clip them right onto your tree; think I may embellish them a bit further with a little tag with a Christmas sentiment on it. I seem to be in a Christmas spirit with Etsy's Christmas In July promotion going on right now!
I can also now show you a pin that I made for my swap partner over at the
Mixed Media Studio
.
She loves all things 'winged' so I made her this little 'Butterfly Queen Button Pin' that was inspired by
Sherry Goshon's Button Butterfly Doll
(which is a free pattern over at
Doll Maker's Journey
, go check it out!) She got it over the weekend along with the
Z fold cards
that I made for her and posted in our group that she loves it, yay!
I'm currently working on my doll head pin for
our group
and it is proving to be a challenge to say the least, it is so teeny tiny!! I did try to make my own sculpted doll head from the Sculpty clay and it is not near as easy to do as all those videos on YouTube make it out to be!!
The one on the right is the press mold and the left is my feeble attempt LOL! I haven't painted mine yet since it is more than a little suspect but maybe it will look better painted!! I ordered some more press molds (or am trying to, still haven't heard back from the ordering site yet) so hopefully I will get them before the swap has to be mailed since the heads I have are suspect at best. And still not sure how I am going to embellish them?? This is much more difficult than I had first thought, but then isn't everything new that you try?!
Well, must sign off as my back is complaining as I sit and type. Hope you have a great week and I'll get back to you when I can! Happy creating!
Deb