Happy New Year everyone! Hope that you had great fun ringing in the New Year and aren't suffering too badly today as a result ;O) It was a quiet New Year's Eve here, my poor DH was working again so it was just me and the pups and to be honest we didn't even make it till midnight. Went out for our nightly walk at around 11:00 p.m., stood and admired the majesty of the winter stars overhead for awhile and then off to bed we went. My wish for you and yours in this New Year is peace, joy and good health and that it will indeed be a 'bonne annèe'.
I am trying to catch up with everyone's blogs and am woefully behind but promise to make the rounds soon! Thank you so much to everyone who has sent good wishes, prayers and healing energy for my Mom, it is so very much appreciated. We hope to have some answers soon and then will deal with whatever that will be so your continuing support will be gratefully and thankfully received.
As I started to catch up with my favourite blogs, I came upon a wonderful new stitch along project over at Michelle's blog,
The Raspberry Rabbits
.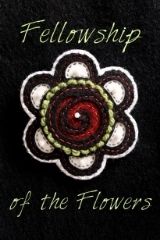 Every Wednesday throughout the coming year, we will be stitching a lovely flower together that will then be incorporated into 12 larger projects. I can't wait to get started, the first flower has been posted today,
a beautiful tulip
! And in addition, she is having a
Facebook giveaway
for a signed copy of her book, "Fabled Fushions", and some of her lovely bunny scissors, yipee! Hope you will hop on over to Shell's blog and join in the fun :O)
Wish I had some new projects to share with you but the only things I've been working on are for a swap for my
Mixed Media Studio group
and I can't show you any photographs yet as my partner hasn't received her swap. Promise to post pictures when I can and I do have some new creations languishing downstairs which I MUST get finished. Off to visit your blogs and see what you've been up to, have a wonderful New Year's Day and happy creating!
Deb